Big fans of period dramas, we were delighted when we discovered Beecham House this week, while looking for a new show. Touted as the Downton Abbey in Delhi, we figured that a show made by the maker of Bend It Like Beckham would be entertaining at the least, and started the show with hopes of a good historical fiction.
What we got, was exotic India on steroids, wrapped up in the beautiful palaces of Rajasthan for the undiscerning western audience. Set in Delhi in 1795, while Shah Alam II was still the reigning emperor of the Mughal Kingdom, Beecham House is the story of one John Beecham (Tom Bateman), a former soldier of the East India Company, who has arrived in Delhi with his son August and a trio of Indian servants, Chanchal, Maya and Ram Lal. There to make his fortune as a tradesman, he soon makes the acquaintance of Murad Ali, through whom he meets Miss Margaret Osbourne, who eventually becomes his love interest.
He is eventually joined by his mother, played by Leslie Nicol (Patmore of Downtown) , and her companion, a Miss Violet Woodhouse who is there as a potential bride for John and plays the role of an English spinster rather well. And then there is Captain Samuel Parker, his friend from East India Company, who becomes his partner in his new trading business, and finally his brother, Daniel.
The Indian cast comprises of the servants (in beautifully starched clothes), the emperor (Roshan Seth), his empress (Tisca Chopra) and Akbar, Begum Samru (a very sultry Lara Dutta), a few other courtiers. There is also the very dashing General Castillon, a French mercenary in the Mughal court.
And let's not forget Princess Chandrika, a key member of the intrigue, and her father, the head of the royal family of Kalyan.
Kalyan? From Thane? Yeah…there goes any attempt to be historically accurate.
Interesting historical fact: the city of Kalyan was surrounded by a fort built in Shah Jahan's time, and was under the Marathas in the second half of the 18th century. But let's not be sticklers for historical accuracy and expect that people from a kingdom that sounds like it's close to modern-day Maharashtra would have names and wear clothes from that region? So princess Chandrika decked up like she's going for Rajasthani wedding in 2019? Totally rocking the white man's colonial wet dreams!
The show could have still retained our attention, and maybe some respect too, had it not decided to be so blatant in its portrayal of exotic India. From the mulligatawny soup to the tiny blouses worn by the Indian women, I could almost hear the jingle of Incredible India playing in the background, especially in the scenes when the women sashayed around with their diaphanous dupattas billowing behind them. Everything from their clothes to their body language and dialogues were jaring. Interestingly, the English women, played by Dakota Blue Richards (Miss Osbourne) and Bessie Carter (Miss Woodhoouse) and of course Leslie Nicols (the very dramatic Mrs Beecham) stay close to the historical veracity of English women's attire and comportment in that era. Brilliantly essayed, all three characters felt right (even if sometimes over the top) and helped in our continuing to see the show.
And then came the court scenes. An affable Mughal emperor and a Hindu king, who embraces a completely random Englishman as a member of his family? Really? And when the two meet in a rather impromptu rendezvous of sorts, the Mughal emperor comes down to welcome the Hindu king, who then proceeds to tell the emperor what he should be doing, and gets away with it? 🙄
But the final blow really came in the season finalé (mini spoiler ahead), when John decided to take Miss Osbourne on a road trip (nope, they aren't married yet) and proposes to her in front of the Taj Mahal!!! 🙄 🙄 🙄 Hey, I thought proposing at Instagrammable locations was a thing that millennials do!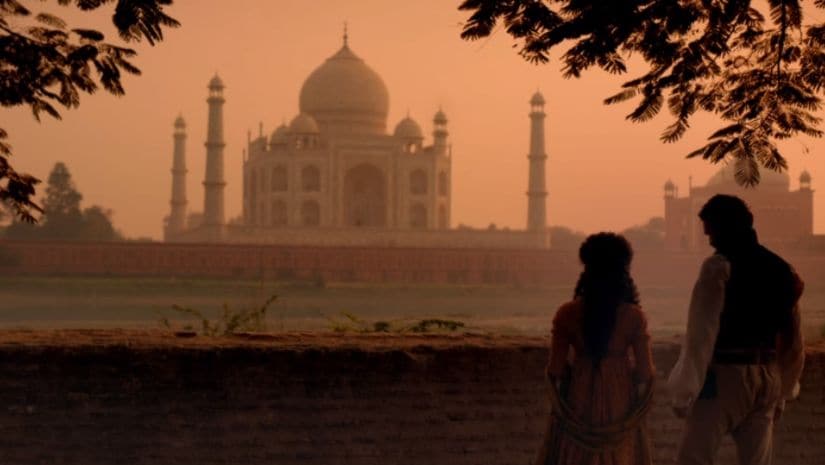 The English audience may have been delighted with the show, it's not even in the same zip code as Downton Abbey.
#BeechamHouse is no Downton Abbey. It is also light years away from 'The Jewel in the Crown'. What it is, is Gurinder Chadha finding her old MM Kaye novels. It is gorgeous to look at, but banal and outrageously bad mostly. I suspect Kaye too would have been bored. #Netflix

— Rahul Biddappa (@rahulbiddappa) July 30, 2019
A show of beautiful locations and beautiful people, Beecham House is, at best, a clichéd drama, seen for nothing but pure entertainment over a weekend, when you just want to watch something colourful, that doesn't necessarily engage your grey cells.